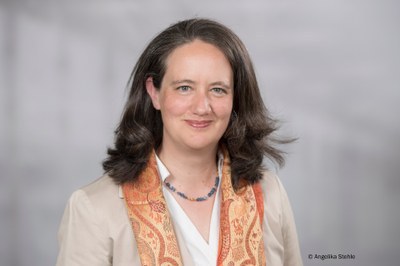 Contact details

Prof. Dr. Judith Becker
Humboldt-Universität zu Berlin
Theologische Fakultät
Unter den Linden 6
10099 Berlin
Germany
Sitz: Burgstraße 26
Raum 517
Tel: 030-2093 91812
Fax: 030-2093 91811

E-Mail: Judith.Becker[at]hu-berlin.de
Office hours: Wed 11:00–12:00.
Please register per e-mail.
---
Personal details
Since October 2017 Professor of Early Modern and Modern History of Christianity, Faculty of Theology, Humboldt-Universität zu Berlin
2007–2017 Senior researcher, Leibniz Institute of European History, Mainz
2010–2014 Project leader, Junior Research Group Europa von außen gesehen Transfer und Transformation der Europabilder evangelischer Missionare im Kontakt mit dem Anderen, 1700-1970. funded by the BMBF
2006–2007 Lecturer at the Chair for Historical Theology, Ruprecht Karls-Universität-Heidelberg
2000–2003 Curate
1999–2000 Junior researcher at the Institute for Reformation History, Faculty of Protestant Theology, and at the Institute for North American History, Faculty of History, Ruhr University Bochum
2015–2016 Fellow at the Swedish Collegium for Advanced Study, Uppsala
2010–2012 Scholarship of the Fast Track Programm der Robert Bosch Stiftung
2003-2006 Scholarship of the Studienstiftung des deutschen Volkes
Studied Protestant Theology, Philosophy and History at the Universities of Bochum, Wuppertal and Paris IV/Faculté libre de théologie protestante de Paris
2014 Habilitation, Protestant Theology, Johannes Gutenberg-Universität Mainz
2006 Dr. theol., Ruhr University Bochum
2002 Second Theological Examination (Ministerial Examination)
1999 First Theological Examination/Diploma in Protestant Theology
---

Awards for the dissertation thesis:       
2006 Caspar-Olevian-Preis
2007 J. F. Gerhard Goeters-Preis
Award for the Habilitation thesis: 
2017 Preis "Begegnung der Kulturen"
---
Research focuses
The ecumenical movement in the 19th and early 20th centuries: conceptions of unity in times of nationalism
European religion in non-European contact zones: history of missions
Conversion
Reformed Confessionalisation
Faith migration in the Reformation era
Protestant church ordinances in the Reformation era
Memberships and Functions
Subject editor Churches and religious culture. Protestantism of the "Enzyklopädie der Neuzeit" (since 2016)
Editorial board 'Theologische Bibliothek'
Editorial board Edition Reformierter Bekenntnisschriften (since 2013)
Expert representative of church history, editorial board "Verkündigung und Forschung"
Scientific advisory board of the project "Connected Histories-Contested Values.
World Lutheranism, Loyalties and Processes of Decolonisation, 1919–1970", Stavanger
Scientific advisory board, Johannes a Lasco Library Emden
Scientific advisory board, Archiv- und Museumsstiftung der VEM
Scientific advisory board "Global Bible: British and German Bible Societies Translating Colonialism (GloBi)"
Scientific advisory board, European Melanchthon Academy Bretten (2014–2017)
Gesellschaft für die Geschichte des reformierten Protestantismus (member of the board since 2011, secretary since 2019)
Member of the Theological Committee of the UEK
Vertrauensdozentin (liaison officer), Studienstiftung des deutschen Volkes (since 2020)
Editorial advisory board, Asian Review of Humanities
Prize Committee "Strauss Prize" for the best English book on the German Reformation, awarded at the Sixteenth Century Studies Conference, 2011 + 2013, 2014
Hannoveraner Initiative Evangelisches Kirchenrecht (2006–2009)
Conversio im Wandel: Basler Missionare zwischen Europa und Südindien und die Ausbildung einer Kontaktreligiosität, 1834–1860 (VIEG 238), Göttingen 2015.
Gemeindeordnung und Kirchenzucht. Johannes a Lascos Kirchenordnung für London (1555) und die reformierte Konfessionsbildung (SMRT 122), Leiden u.a. 2007.
(with Katharina Stornig), Menschen – Bilder – Eine Welt. Ordnungen von Vielfalt in der religiösen Publizistik um 1900 (VIEG Beiheft 118), Göttingen 2018
(ed.), European Missions in Contact Zones. Transformation through Interaction in a (Post-)Colonial World, (VIEG Beiheft 107), Göttingen 2015.
Gendered behaviour: religious norms and sexual deviance in the Basel India Mission in the first half of the nineteenth century, in: Jyoti Atwal/Iris Fleßenkämper (ed.), Gender and Violence in Historical and Contemporary Perspectives. Situating India, London/New York 2020, 76–94.
Zwischen kultureller Überlegenheit und universaler Menschlichkeit. Selbstverständnisse europäischer Christinnen und Christen im Kontakt mit den "Anderen" im 19. Jahrhundert, in: Michael Meyer-Blanck (ed.), Christentum und Europa. XVI. Europäischer Kongress für Theologie (10.-13. September 2017 in Wien) (VWGTh 57), Leipzig 2019, 474–497.
Die Rolle der Obrigkeit in reformierten Kirchenordnungen der Frühen Neuzeit, in: Heinrich de Wall (ed.), Reformierte Staatslehre in der Frühen Neuzeit (Historische Forschungen 102), Berlin 2014, 235–261.