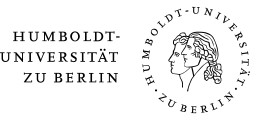 Events
The German Ecumenical Youth Movement between Nationalism and Internationalism
Lecture by Prof. Dr. Judith Becker at the International Video Conference: "Nationalism and Internationalism in the Young Ecumenical Movement, 1895–1920s", hosted at HU Berlin (convenors: Prof. Dr. Judith Becker/Prof. Dr. Dana L. Robert, Boston University),
7 October 2020
13. Internationale Emder Tagung zur Geschichte des Reformierten Protestantismus
Conference at the Johannes a Lasco Bibliothek Emden.
12–14 March 2021
Response: Panel "Zeitgeschichtliche Unterbrechungen und Kontinuitäten"
Conference of the DGMW: Mission erfüllt? Deutsche Missionswerke, Akteure und Theologien im Schatten des Nationalsozialismus, Berlin,
7–9 October 2021
Das evangelische Kirchenlied im Spannungsfeld von Interkonfessionalität und konfessioneller Profilierung
Lecture by Dr. Andrea Hofmann at the conference: Musik im Umbruch – Zum 400. Todestag von Michael Praetorius, Herzog-August-Bibliothek Wolfenbüttel,
18–20 March 2020
Das geistliche Repertoire der Arien – "Übersetzungen" des Genfer Psalters und der lutherischen Tradition
Lecture by Dr. Andrea Hofmann at the conference: Heinrich Alberts Arien, DHI Rom,
24–26 February 2020
"Ich nahm meine Wohnung in einem Götzen-Tempel". Der Umgang mit indischen Gottheiten in der Baseler Mission des 19. Jahrhunderts
Lecture by Prof. Dr. Judith Becker at the Workshop: "Götzendienst". A Workshop from the Theologisches Forum Judentum–Christentum, Westfälische Wilhelms-Universität Münster,
20 February 2020
Workshop zur Examensvorbereitung
Dr. Andrea Hofmann and Dr. Kerstin Menzel,
18 February 2020, 10–15 Uhr, Burgcafé
Priestertum aller Gläubigen? Kirchliches Engagement von Frauen im Ersten Weltkrieg
Impulse from Dr. Andrea Hofmann at: Everybody's Talkin' Tacheles, Burgcafé,
16 January 2020, 18.30 Uhr
Touring exhibition "Karl Barth"
Foyer of the Theologischen Fakultät,
6–23 December 2019
Allgemeines Priestertum aller Gläubigen? Die Rolle der Frau in der evangelischen Kirche während des Ersten Weltkriegs
Lecture by Dr. Andrea Hofmann at the conference: Gender Studies in der Theologie - Warum und wozu. Arbeitsstelle für Theologische Genderforschung WWU Münster, Katholisch-Theologische Fakultät,
28–29 November 2019
Ethnische und religiöse Minderheiten in der DDR und Wendezeit.
Panel discussion with contemporary witnesses and scientists in cooperation with Kulturprojekte Berlin,
5 November 2019
"… das teure Wort Gottes reichlich unter die Menschen kommen lassen"
Study day on the 300th anniversary of the death of Carl Hildebrand Freiherr von Canstein,
2–3 November 2019
Ansätze, Fragen und Paradigmen der neueren Christentumsgeschichtsschreibung.
Lecture by Prof. Dr. Judith Becker as part of the series "Spektrum Theologie" of the Graduiertenzentrum,
22 October 2019
Conversion as Perspective on Historiography: Examples from the Basel Mission in South India in the First Half of the Nineteenth Century
Lecture by Prof. Dr. Judith Becker at the Workshop: Turning Points in Global Mission History (1600–2000). Aims, methods and effects, Koninklijk Nederlands Instituut Rom,
10 September 2019
Ökumene zu Zeiten des Nationalismus
Inaugural lecture by Prof. Dr. Judith Becker, Humboldt-Universität zu Berlin,
13 June 2019
Historiography of Christianity - New Perspectives
Workshop, Humboldt-Universität zu Berlin,
1–2 June 2018
How Emotions become values: despondency and constancy in Basel Missionaries' usage of emotions and values in nineteenth century India
Lecture by Prof. Dr. Judith Becker at the Kolloquium of the Max-Planck-Institute for Human Development,
9 May 2018
Missionare, Katechisten, Älteste: Selbstverständnisse von europäischen und indischen Amtsträgern und -trägerinnen in der Basler Mission im 19. Jahrhundert
Lecture by Prof. Dr. Judith Becker at the conference: Mission als transkulturelles und transnationales Phänomen, Shanghai,
24–26 April 2018
Das gedruckte Lied als politisches und theologisches Propagandainstrument?
Lecture by Dr. Andrea Hofmann at the conference: Wahrheit, Geschwindigkeit, Pluralität. Chancen und Herausforderungen durch den Buchdruck im Zeitalter der Reformation, Akademie der Wissenschaften and IEG, Mainz,
1–3 March 2018
Radio feature "Zum 550. Todestag von Johannes Gutenberg", DLF, Aus Kultur und Sozialwissenschaften, 8. März 2018, with Andrea Hofmann
Zürich und die Fremdengemeinden. Eine 'Entangled History' der Reformation
Lecture by Prof. Dr. Judith Becker, Chair and Lecture at the congress: Die Züricher Reformation und ihre Rolle in den europäischen Reformationsbewegungen, Universität Zürich,
8 February 2019
Christianity in South India: Assimilations, Incorporations and Conflicts, c. 8th-17th Centuries
Lecture by Prof. Dr. R. Mahalakshmi (JNU Delhi), Humboldt-Universität zu Berlin,
5 February 2018
'Entangled History' and 20th Century Global Christianity: Three Case Studies
Prof. Dr. Judith Becker, Chair & Respondent, American Society for Church History, Chicago,
5 January 2019
 
How Emotions become values: despondency and constancy in Basel Missionaries' usage of emotions and values in nineteenth century India
Lecture by Prof. Dr. Judith Becker at the Colloquium of the Max-Planck-Institute for Human Development, Berlin,
9 May 2018
Missionare und Katechisten: Selbstverständnisse von europäischen und indischen Amtsträgern in der Basler Mission in der ersten Hälfte des 19. Jahrhunderts
Lecture by Prof. Dr. Judith Becker at the congress: Mission als transkulturelles und transnationales Phänomen, International Studies University Shanghai,
25 April 2018
Jenseits von Deutschland. Reformationsgeschichte als Verflechtungsgeschichte
Key lecture by Prof. Dr. Judith Becker at  the Evangelisch-Theologischen Fakultät at Eberhard Karls Universität Tübingen,
31 October 2017